Mortlach Special Strength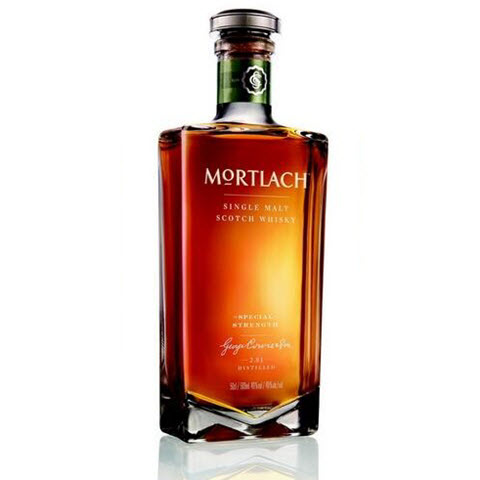 Mortlach Special Strength, NAS, 49 %
About half a year ago Diageo launched a core range of Mortlach single malts. Almost all the production from this Speyside distillery has previously gone to blending, but we have had the chance to taste many independent bottlings. I would say Mortlach has a fairly high standing, and I guess it is only natural that Diageo want to tap into this financial potential.
The good thing for us mere mortals is that we can now more easily lay our hands on a bottle of Mortlach. Or can we? You see Diageo has decided to brand and price the new Mortlach range as luxury products. The bottles do look very good, but they are 50 cl and not 70 cl, and the prices are rather high. here's the whole range:
Mortlach Rare Old, £ 55
Mortlach Special Strength, £ 75
Mortlach 18 YO, £ 180
Mortlach 25 YO, £ 600
I have now tested the Mortlach Special Strength, which is a Duty Free / Travel retail exclusive. It is basically exactly the same whisky as the Mortlach Rare Old, only with less water.
On all these new Mortlach bottles you will see the text 'Distilled 2.81'. This does not mean it was distilled in February 1981, although I can see how some would make that mistake. It rather refers to the distillation process at Mortlach. Unfortunately I have not managed to obtain a good explanation of this process, other than that it is 'somewhat similar to what they do at Springbank'. If you have more details, dear reader, then please enlighten us!
Nose (22/25): Full and rich nose. Oranges, orange marmalade, and apricots. It's big and beautiful.
Taste (22/25): Again rich and full-bodied. It is sweet and fruity. Oranges, caramel, and almonds / marzipan. It has a full and slightly fizzy mouth-feel.
Finish (22/25): Still rich and full - all the way through. The finish is long and oily. The oranges are slightly more bitter now, a soft edge if you like. Sugary right at the end.
Balance (22/25): A really nice dram. I am happy to say I really enjoyed this one, and for the quality in the glass I would say the price is not completely unfair. I would certainly pay for a full bottle - although I would have wanted it to be a 70 cl bottle.
Score (88/100)
Sláinte! - Thomas